Joseph C. Bartolacci
President and Chief Executive Officer
Joe joined Matthews International Corporation in 1997 as general counsel. Two years later, he became President of Caggiati, the Company's wholly owned bronze subsidiary in Parma, Italy. While in Europe, he acquired and managed nine businesses to create the largest packaging graphics group in Europe.
Joe returned from Europe in 2004 to assume the role of president of the Company's casket operations. In 2005, he was appointed to the position of President and Chief Operating Officer of Matthews, and was also elected to the Board of Directors. One year later, Joe was named President and Chief Executive Officer.
Prior to joining Matthews International, Joe was Vice President and General Counsel for Thrift Drug, Inc. He was also an associate attorney at Reed Smith Shaw & McClay, focusing on the corporate and taxation area with experience in litigation, real estate and estate planning. Joe began his career at Touche Ross & Co. as a senior auditor where he gained practical business, tax and auditing experience in manufacturing, banking, retail and advertising.
Joe serves as the chairman of the finance committee at St. Vincent College and is a member of the Federated Investors, Inc. Board of Directors.
Joe earned his BA in accounting at St. Vincent College and received a Juris Doctorate degree from the University of Pittsburgh School of Law.
Ronald C. Awenowicz
Senior Vice President, Human Resources – Global Compliance/Operations and North America HR
Ron is responsible for the vision, design and governance of human resources strategies through a global service delivery model in the Americas. His oversight includes Corporate Communications, Culture & Change Management, Talent Acquisition, Compensation & Benefits, HR Information Systems, Data Analytics/Reporting, HR Service Center, Compliance and Employee Relations.
Ron was previously Vice President, Human Resources Americas at Matthews International, in which he developed and managed the overall employee relations, business partner and talent acquisition initiatives. Key duties included measuring manager effectiveness, culture initiatives, employee engagement and legal compliance programs.
Ron first joined Matthews International in February 2015. He previously held many HR management roles in the financial services and manufacturing industries as well as finance and retail banking roles.
Ron received his bachelor's degree in Marketing from California University of Pennsylvania and a Master of Business Administration in Finance from the University of Pittsburgh.
Gregory S. Babe
Chief Technology Officer
Greg provides leadership and strategic oversight for global technology, business-process and technology-enabled growth strategies, innovation functions and enterprise initiatives. He also provides executive leadership to the Saueressig Group which encompasses the Packaging, Surfaces and Engineering divisions under SGK.
Greg was recently named as an inaugural member of the newly formed Office of the President and CEO.
In addition to his roles at Matthews, Greg serves as President and Chief Executive Officer of start-up Liquid X Printed Metals, Inc., a Carnegie Mellon University spin out.
Previously, Greg was the Chief Executive Officer of Orbital Engineering, Inc., a privately held engineering services company. He also retired as President and Chief Executive Officer of Bayer Corporation and Bayer MaterialScience LLC after a 30+ year career.
Greg serves on the Board of Trustees and is a member of the Investment Committee of the Benedum Foundation.
He holds a Bachelor of Science degree in mechanical engineering from West Virginia University and was awarded an Honorary Doctorate in 2012.
Davor Brkovich
Chief Information Officer
Davor is responsible for the Matthews Enterprise IT function including applications support, IT infrastructure, strategic programs, cyber security and compliance. He joined Matthews in 2017 as the Director, Global IT Infrastructure where he led a number of transformation and efficiency initiatives.
Prior to joining Matthews, Davor held various IT leadership roles in CPG companies and professional services firms. He was most recently the Head of IT Operations for the Kraft Heinz Company. Collectively, Davor has more than 25 years of experience in IT Operations, IT Infrastructure, Information Security & Compliance and IT Audit. Davor is also an adjunct faculty member at Carnegie Mellon University's Heinz College of Information Systems and Public Policy graduate school.
Davor has a Bachelor of Science in Accounting and a Master of Science in Information Systems both from Duquesne University.
Brian J. Dunn
Executive Vice President, Strategy and Corporate Development
Brian manages various corporate functions and serves as Group President for Matthews Automation Solutions and Matthews Environmental Solutions. He collaborates with the various division management teams to set strategy and support the creation of tactics and techniques necessary to deliver the committed financial results.
Brian has held many roles during his career, including an engineer, salesman, regional sales manager, global sales manager, division president and group president for three companies serving a variety of markets. During his tenure with Matthews Brand Solutions, the group grew from $200M to $500M in revenue while expanding both the service offering and the geographic markets served.
Brian holds a BS of Engineering degree from Oregon State University and an MBA in Hi-Technology Business from Northeastern University.
Steven D. Gackenbach
Group President, Memorialization
Steve has served as Group President, Memorialization for Matthews International since 2011. In this role, he leads Matthews' Cemetery Products Division and the Matthews Aurora Funeral Solutions Division. Prior to this role, Steve was Matthews Memorialization's Chief Commercial Officer.
Before joining Matthews, Steve was employed by Kraft Foods where he spent almost 20 years in general management, strategy and marketing roles.
Steve graduated from the University of Pennsylvania and earned an MBA from Harvard Business School.
Reena Gurtner
Senior Vice President, Human Resources – Global Talent and EMEA and APAC HR
Reena is responsible for the vision, development and governance of the global human resources strategy for SGK, Saueressig Group and Talent & Organization Effectiveness.
Reena was previously Vice President, Human Resources at Matthews International for Asia, Middle East and Africa where she played a critical role in developing strategies, implementing innovative solutions for business issues and driving operational excellence for the expansion and profitability of the region.
Reena joined SGK in 2013 and brings over 25 years of international HR experience having worked across diverse industries in North America, Europe and Asia.
Prior to joining the Company, Reena worked as the Global Senior Vice President, HR for a shipping, oil and gas company, digital marketing firm and held various HR leadership roles with Four Seasons Hotels & Resorts across the globe.
Reena has a master's degree in human resources management from Temple University and is a certified Professional Executive Coach.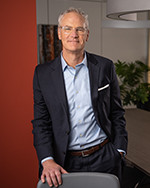 Gary R. Kohl
President, SGK Brand Solutions
Since becoming SGK's president in 2017, Gary has led SGK in the most significant transformation in its history, reshaping the company to lead in the constantly disruptive communications industry.
Throughout SGK's continuing transformation, Gary has worked to ensure that operations are tightly synced worldwide with a new business strategy, technologies are keenly focused on enabling marketing operations excellence, and there is renewed focus on diversity and inclusion.
Gary has also led the way in preparing the organization for change as a continuous growth process and not an event. Under his leadership, SGK has become a more agile, outcome-focused business partner to its clients, helping them simplify their marketing to amplify their brands and grow.
Prior to his current position, Gary was executive vice president, global development at SGK where he played a critical role on the Executive Leadership Team, developing strategies to accelerate growth and profitability across our regions.
Gary's background prior to joining SGK includes executive and senior level positions in sales, marketing and general management. Most recently, he served as group senior vice president, digital solutions, global packaging and printed electronics groups at RR Donnelley.
Gary is also a member of the Matthews International Executive Leadership Team.
Gary earned a B.S. in Business Administration from Boston University and completed executive coursework at Columbia University and The Kellogg School of Management. Gary also achieved Champion Level Six Sigma Certification.
Steven F. Nicola
Chief Financial Officer and Secretary
Steve was appointed Chief Financial Officer, Secretary and Treasurer for Matthews International in 2013. He serves on the boards of various subsidiaries of Matthews International Corporation.
He previously held the role of Vice President, Accounting and Finance. Prior to that position, Steve was the Corporate Controller. He joined Matthews in 1992 as Manager, Tax Planning and International Accounting.
Prior to joining Matthews, Steve was a manager with Coopers & Lybrand (now PricewaterhouseCoopers LLP).
Born and raised in Pittsburgh, he received a Bachelor of Science degree from Robert Morris College in 1982.
Brian D. Walters
Senior Vice President and General Counsel
Brian joined Matthews in 2005 as corporate counsel for the Company at a time when Matthews' global expansion was just beginning.
In 2009, Brian was promoted to Vice President and General Counsel where he directs and manages all legal matters for Matthews, both nationally and internationally.
Brian also serves as a member of Matthews' executive leadership team, secretary for the nominating and corporate governance committee of Matthews' Board of Directors and is responsible for overseeing the corporation's evolving compliance programs, including anti-corruption, export controls, insider trading, anti-trust and others. Brian worked in private practice for ten years prior to joining Matthews. A graduate of Boston College and Duquesne University School of Law, Brian was a member of the Order of Barristers and a published author and editor of the Duquesne Law Review.