History
A History of Making Our Mark
The history of Matthews International Corporation begins over 160 years ago.
John Dixon Matthews emigrated from his native Sheffield, England and opened up a small shop in Pittsburgh, Pennsylvania in 1850. A skilled engraver, John Matthews set a simple goal for his small company - to become no less than the pre-eminent provider of the highest-quality identification products and services.
His first products included military stamping dies, branding irons, ornate engravings and stamps for wooden crates. Word of his superior craftsmanship and service spread, his company flourished, and by 1902 Matthews went from a partnership to a corporation.
In the early 1900s, James H Matthews, the youngest son of the Company's founder, introduced life insurance and profit distribution for employees - a truly progressive concept for its time. But for Mr. Matthews, it was just a logical extension of one of the Company's founding principles, "what's good for employees is good for the company and that's good for customers."
Continued Growth and Expansion
Matthews' outstanding growth continued into the start of the 20th century. By the mid-1920s, Matthews had grown to the point where it needed to be separated into three equally successful operating units: Bronze, Graphics Imaging and Marking Products.
And once again, success followed. In fact, the Company's Cemetery Products segment has become the world's leading manufacturer and marketer of cast bronze memorials and architectural plaques. You can find Matthews Cemetery Products all over the world, from a bronze plaque at the top of Pikes Peak in Colorado to the 100-foot doors for the Saudi Arabia Monetary Authority.
The Graphics Imaging segment has become a leader in pre-press services, helping companies create eye-catching and brand-building packaging graphics. This segment played a role in the development of UPC and bar-code scanning technology-a system that has revolutionized manufacturing, marketing and merchandising throughout the world. Marking Products is an industry leader in both technology and quality and one of the first U.S.-based manufacturers of industrial printing inks to obtain ISO 9001 registration.
Yet, whether we are creating a bronze plaque to help identify a local hero or creating a unique retail display to help identify a national brand, we still adhere to the same principle of producing the highest quality products and providing unequaled service that John Matthews started with in 1850. Now in the 21st century, we are poised for continued growth while we continue the vision of a young Englishman who came to America with skill, a few simple tools and a dream.

John Matthews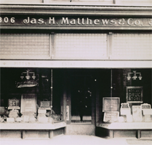 The Early Matthews Storefront

Memorialization

SGK Brand Solutions

Industrial Technologies